Introduction
A business consist of a complex network (matrix) of components and processes. Each of them need to be active in the business, working to the optimum point as well as working smoothly with each other. This is similar to a very expensive car ideling. Although all the components of the car are working in perfect unisan, the car is not moving at all. It still needs direction.
Critical Questions
You should ask yourself: Do you know (1) where you are in your business, (2) where you want to be and (3) how you will get there? It is estimated that 80% of all new businesses do not survive the first 3 years. This statistic is so overwhelmingly negative that it numbs our mind and we accept it as a given. The pain that goes with the closing of a business for the owner and the family and the impact on the economy cannot be described or calculated.
Some businesses will go from start-up straight to decay in Fig 1 below. Some will go through the total life cycle and end up in the decay phase below. Sometimes well established businesses operating quite profitable over many years all of a sudden move into the decline and decay cycle. At TOMI consulting we use a comprehensive set of tools and many years of experience to ensure your business keep growing and will avoid the decay at all cost. It is our mission to implement solutions that will keep your business growing. Our strategy
Our strategy is based on the following three pillars
If you cannot measure it you cannot manage it.
Mentor & coaching of management to apply attention to critical business areas
Revenue optimization
Further to the above it is important to treat the business with science and not with philosophy. This is applicable to both the business processes as well as the human resources capital. Human capital is quite important, as you can see from the following.
Fig 1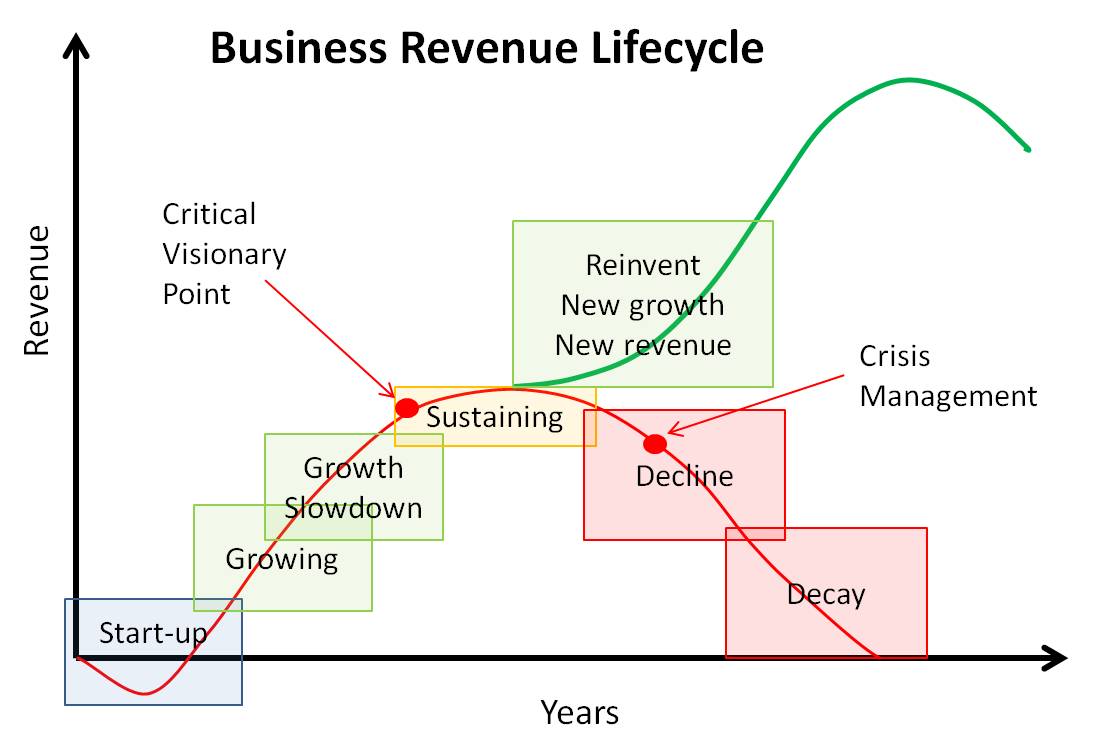 Quite often business owners work so hard, that they fail to have the time to think about the following basic questions. Failing to answer these question in a scientific and precise way, should raise warning lights
Where are we Where do we want to go How do we get there
With so much help from consultants and government, why is it then that more than80% of startups does not live to tell the story.
We have found the solution to the riddle and will gladly share it with you. Please contact us for an appointment. The following are our areas of possible involvement.
TOMI – Matrix of Growing Solutions
The following is a detailed service and product solution as defined by our MATRIX of growing solutions. It is possible for a business to "cherry pick" from our products or services, or sign up for our complete wellness program.
The A-Z of business Management and planning
Cash flow projections and Budgeting for stable growth
SWOT analysis
Restructuring Business plans and Change management
Marketing and Sales Analysis and Strategy
Business Strategy and Implementation
Strategic alliances and Focusing Business Leadership
Strategy and entrepreneurial thinking and planning to re-invent your business.
Effective team and management analysis and development
DISC: The four dimensions of behavioural style
Seven Dimensions of Value and Motivation
Axiology
A list of more than 80 core attributes are measured i.e. problem solving, role confidence, job ethic to name a few examples.
Company Health Check
See how healthy are the 11 core areas of you company
Team balance.
A balance is required between the three types of people. Without balancing and understanding the team, achieving goals can be an uphill batle.
Marketing and Sales
Marketing Planning, marketing strategy, Strategy planning and strategy, Internal marketing, Neuro marketing, Online Strategies Web development, E-commerce development, Digital advertising, Social media strategies.
Training
Presentation structuring and presenting
Effective use of PowerPoint
Sales Training
Please contact us for a free consultation.